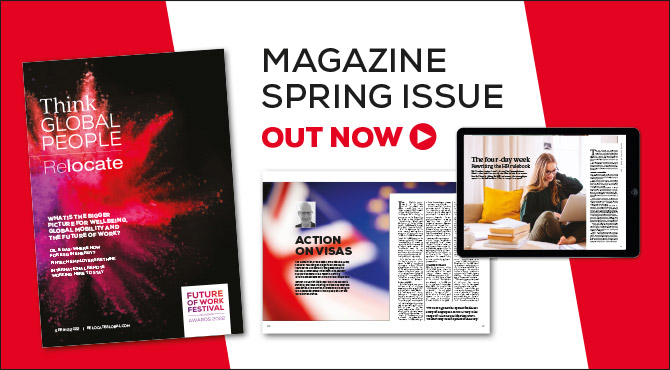 Think Global People Spring Issue 2022 – available now! | Magazine
Think Global People presents a new perspective on global leadership, talent mobility and education for life. In this issue, as employees return to work, we share a wealth of knowledge about the new world of work.
As Marianne Curphey writes, London is still a "superhub" of Fintech activity. With fierce global competition for top talent, companies are being forced to review immigration pathways, remote working and how they attract talent and retain international expats, many of whom are seeking flexible
work models
.This picture is backed up by KPMG's latest
remote work
trends report, covered by Ruth Holmes, and Santa Fe Relocation's recent webinar on the hidden implications of cross-border and remote working. Dr. Sue Shortland highlights learnings.The mobility industry is taking up the challenge to act on visas, a call led by the ARP and supported by former MP Lembit Öpik.In a context of rising energy prices, leadership is also on the agenda. David Sapsted examines how oil and gas companies are reinventing themselves and what that means for environmental, social and governance (ESG) goals.Well-being continues to be at the forefront of the international community as we move from the Covid-19 crisis to the impact of war in Ukraine. Wellbeing authorities Professor Sir Cary Cooper and Dr Ian Hesketh draw inspiration from their latest book 'Managing Occupational Health and Wellbeing During a Crisis' which has proven to be prophetic advising how to support your staff in difficult times.Join us at the Future of Work Festival on June 9 and meet Ian Hesketh, Linda Holbeche and Sarah Rozenthuler along with leading experts and international peers to share ideas on employee engagement, wellbeing, productivity , regeneration, agility and innovation in a changing workplace.We thank all of these inspiring organizations who participated in our awards and look forward to sharing the shortlist in April. Join us in toasting the winners at our live awards ceremony on June 9!
In this problem:
FinTech & Technology Talent Hunt: Rethinking International AssignmentsAmid the hunt for top FinTech and tech talent, global companies are considering changes to the immigration pathway to the UK and wrestling with the implications of the growing demand for remote working arrangements among international staff, writes Marianne Curphey.Oil and gas: where does ESG stand in the energy sector?Last year turned out to be good for oil and gas companies, writes David Sapsted. After several years of slump, prices soared and companies like BP, Exxon Mobil, Shell, Chevron and others were able to weigh in with multi-billion dollar profits. And that, of course, before the new price spike following the Russian invasion of Ukraine this year.Work from anywhere – the hidden implications of cross-border and remote workingA recent webinar hosted by Santa Fe Relocation discussed the potential pros and cons of employees working in destinations other than their contracted workplace. Dr. Sue Shortland reports.International remote work here to stayKPMG International has released new information on international remote working practices as flexibility and hybrid working options become crucial for talent management and the employee experience. Ruth Holmes reports.What is the big picture for well-being, global mobility and the future of work?As we approach the Future of Work Festival on June 9 at Relocate Global's headquarters in Kent, Fiona Murchie outlines the opportunities ahead for resilient international organizations and their leadership teams who know how to work effectively in global markets.The Challenge and Benefits of Fostering the Mental and Financial Well-Being of Employees WorldwideAccording to a report by advisers Lane Clark & ​​Peacock, stress and mental health issues undermine employees' ability to perform and could cost the UK economy more than £4billion every year. Marianne Curphey reports.The four-day week: rewriting the HR rulesHybrid work practices formed in the melting pot of the pandemic are changing when and where we work, writes Ruth Holmes. As we emerge from the lifting of Covid-19 requirements in the workplace, what are the expectations of employees for the Great Comeback? How can companies react?Access to partner employment – the triple winnerDual careers have long been reported as a barrier to global mobility. In 2021, the Permits Foundation – a lobbying organization that seeks to improve access to work for partners of international assignees – celebrated its 20th anniversary by hosting an online conference representing host countries, employers, assignees and their partners. Dr. Sue Shortland reports on its key messages.Raising our game on diversity, equity and inclusionHR and international mobility specialists are redoubling their efforts around diversity, equity and inclusion (DEI), bringing the function closer to people strategies and to the heart of global organizations. Ruth Holmes reports.A leading online school in India for globally mobile familiesFor many globally mobile professionals, balancing careers and raising families isn't easy, writes Thangam Pillai of the 21K school in India. One of the biggest challenges professionals face is the disruption to their child's education caused by moving or plans away from home.Has Brexit put an end to cross-border European talent flows?Hiring of international talent is both hampered and supported by Brexit and Covid-19 related disruptions. Lisa Owen and Jerry TemkoManaging Directors, In-house Law Firm at Legal Recruiters, Major, Lindsey & Africa explore the issues.Visa actionThe Association of Relocation Professionals (ARP) has focused on a significant chance to improve the UK's status in the global mobility market. With growth comes foreign investment, and the visa system is a factor that defines Britain's attractiveness to international employers.Former MP Lembit Opik reports on economic statistics, visa issues and what the Association of Relocation Professionals is doing to turn a potential problem into an asset for UK relocation status.Developing the professional skills of tomorrow, todayThe American School of Milan offers an American-style international education for children ages 3-18 on its state-of-the-art campus. An IB Diploma School, it is firmly focused on developing transferable skills for the workplace of tomorrow. Ruth Holmes reports.Now is the time to go back to the officeProfessor Denis Kinane outlines how Covid and other testing can help responsible companies reassure their employees as the UK and countries around the world lift restrictions.Creating Happy Endings – Leveraging Your Work Abroad ExperiencesWorking abroad can have disastrous consequences. Yet international work should benefit both individuals and organizations after repatriation. How can you ensure a happy ending for yourself? Written by Emilija Oleškevičiūtė and Michael Dickmann, GLOMOBooks to guide your growth strategy in the new world of workFiona Murchie take a look at some new editions and new books to get you up to speed.
©2022 Re:locate Magazine, published by Profile Locations, Spray Hill, Hastings Road, Lamberhurst, Kent TN3 8JB. All rights reserved. This publication (or any part of it) may not be reproduced in any form without the prior written permission of Profile Locations. Profile Locations accepts no responsibility for the accuracy of the content or opinions expressed herein.