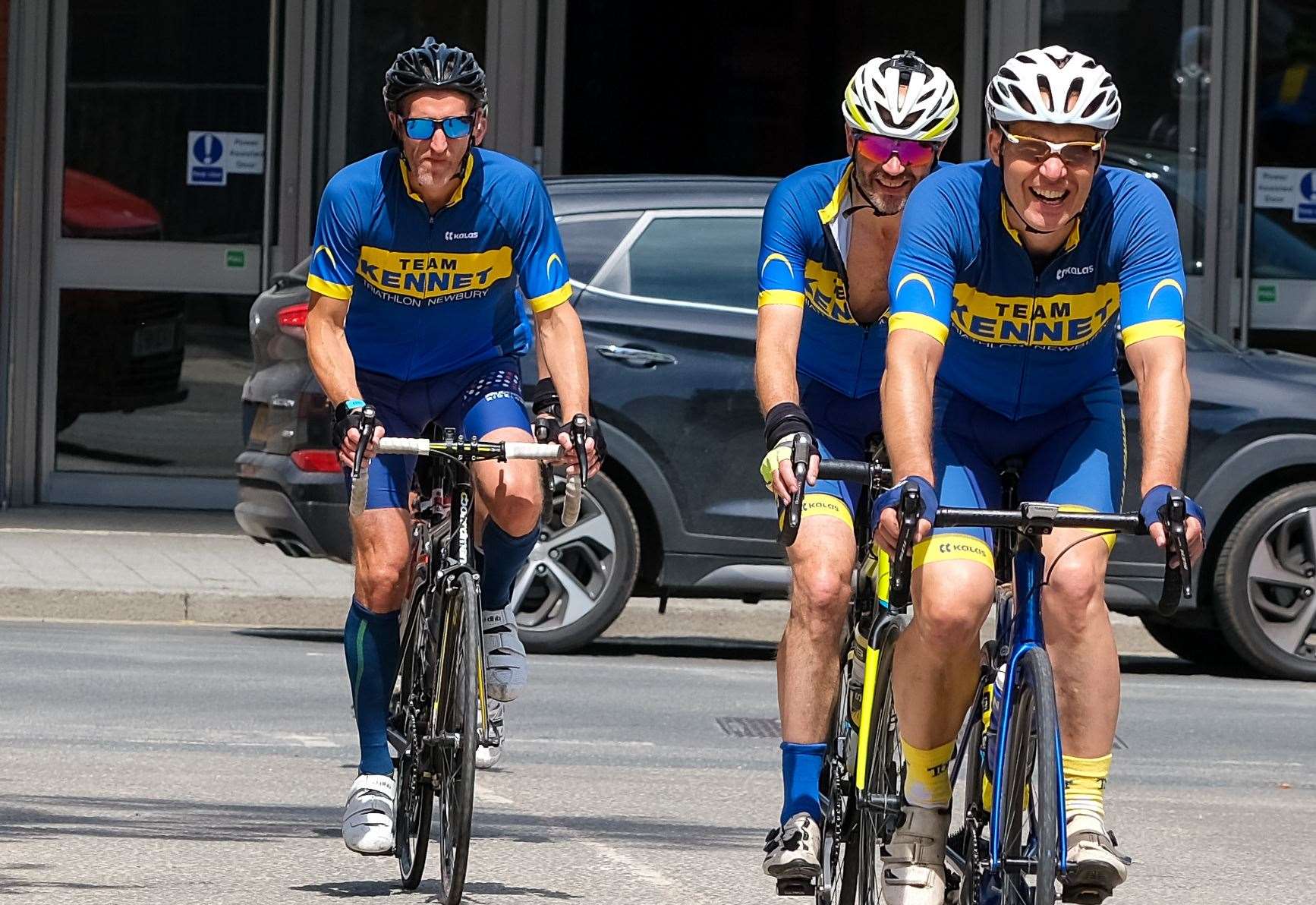 Newbury friends take on the 500km bike challenge for the Eight Bells for Mental Health charity
Through day and night, heat and an accident, four friends took on a 24-hour bike challenge for a local mental health charity.
By traveling the equivalent distance from Newbury in the Netherlands, they raised £1,740 for Eight Bells for Mental Health – a West Berkshire charity that provides services ranging from walk-in visits and social sessions to hot lunches and outings for those with mental health issues. .
The group, made up of Newbury City Council leader Martin Colston and three friends Rog Davis, Sean Bird and Bart Kuijten, who have been running together as a group since 2014, covered 500km – or 300 miles – without stopping only to refuel.
The men started and ended their journey in Newbury, cheered on by members of the Eight Bells as they set off, and passed through Lambourn, Ashbury, Wantage, Upton, Streatley, Pangbourne, Woolhampton and Thatcham in 100km circular laps.
Mr Colston said: 'None of us had ever done anything like this before and we weren't sure if we'd be able to finish it or not.
"Lap two was looking good until we had an accident."
He continued: "I lost concentration, I lost my balance. Sean slammed into me and his foot went through Bart's wheel.
"Sean and I agreed to go on and luckily my wife delivered a new bike to us quickly."
The friends all traveled despite losing 40 minutes.
Mr Colston said a car also managed to 'swerve and avoid it' when it crashed.
He said: "The driver was brilliant, firstly for avoiding me and secondly for stopping and checking that we were all ok. He was amazing.
The group, riding in the heat, stopped after each lap to refuel, have a drink and refill their water canisters. They also filled their pockets with food to keep them energized on the go.
"The third round was really good, it was at night and it was really dark," he added. "We had never done anything like this in total darkness.
"The fourth round was the most difficult. It was still dark when we left but it's just painful then, everything hurts.
"The sun came out and there were pinks and oranges in the sky, it was uplifting.
"It's amazing that we all managed to finish, we had incredible support."
The council leader said he chose Eight Bells as his charity because he had personal experience of the impact of mental health issues.
He suffered from clinical depression 25 years ago.
"It was very scary," he said. "I had no idea what was going on, I had no previous experience and I didn't know anyone who had had it before.
"I couldn't function and I couldn't make decisions."
Mr Colston said he had been lucky at work to access treatment through private medical insurance and to work part-time despite holding a high position in a big business.
"I've been part-time ever since," he added. "I saw my children grow up"
He said there is still stigma surrounding mental health and some people may not be able to access help as easily.
He added: "I was desperate not to show anything, I just had to keep going and be a decisive person. At that point, you just aren't who you really are.
"It's difficult for everyone, but if they don't get any support, it's really difficult.
"I think it's important that there is no shame, the more people there are who understand [mental health] the best."
Money is still collected online at https://www.givey.com/500kmin24hours
All donations will be matched through The Good Exchange.
---
---