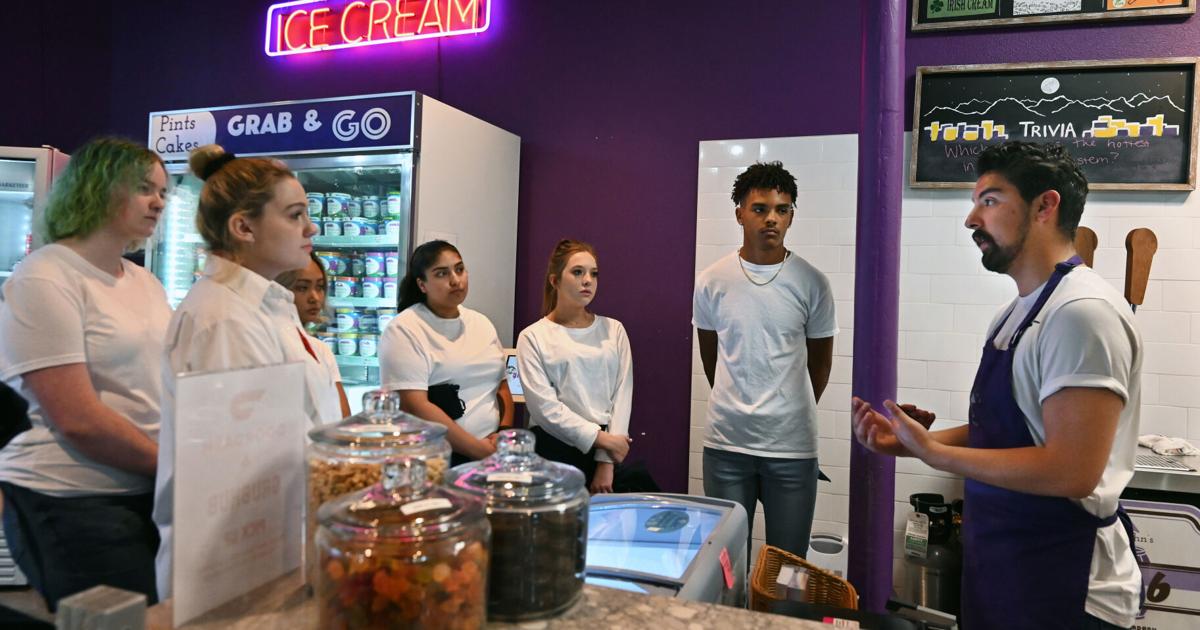 More teens working in Colorado, US than before COVID-19 pandemic started | Company
School is closed for the summer and that means teenagers are not only looking forward to warmer weather and vacations, but also summer jobs.
And they will have plenty of company.
In 2021, 39.6% of teens between the ages of 16 and 19 participated in the national workforce, while 32% of Colorado teens in that age group were in the workforce, according to Colorado Department of Labor and Employment. While not as robust as they were around 20 years ago, these numbers are up from the pre-pandemic year of 2019.
At the same time, teens looking for work will find an employment scene that has changed since the start of the pandemic, some experts and employers say; more and more companies are aware of the need to offer meaningful work to teenagers, just as they do for adult job seekers.
Even if their job is short-term work, some teens will also want a sense of community and growth in their lives, experts and employers say.
Over the past 20 years, K-12 schooling has increasingly focused on academics, said Bob Gemignani, director of the Pikes Peak Business & Education Alliance, a branch of the Pikes Peak Workforce Center. which serves as a link between schools and local businesses to balance the demand for labor with the supply of available talent.
"The concept of student career development has taken a back seat in many ways in most of our school systems," Gemignani said.
"Our mission," he added, is to connect the talents, interests and abilities of K-12 students to the world of work in the Pikes Peak region, which includes the counties of El Paso and Teller.
Unlike previous generations, Gemignani said there is now a wider range of careers available to teenagers.
Additionally, due to the impact of the pandemic, workers and companies are more aware of "quality jobs" – those that offer flexibility, work-life balance, healthy cultures and good wages, said Becca Tonn, communications manager for the Pikes Peak Workforce Center.
Slim Chickens is spreading its wings with more locations in the Colorado Springs area
While teenage summer and high school jobs may not be the career path they follow in the long term, it still gives them the skills they will need in the job market, such as problem solving, conflict resolution and resilience, Tonn said.
Josh & John's Ice Cream, the longtime Colorado Springs-based ice cream shop that hires many teens in the area, seeks to develop those skills and help teens become leaders.
"Being a leader is tough," said Josh & John human resources specialist Brian Ortiz. "They may have had the experience of being a leader in a school or in a club. But it's different when you're in charge of people."
Ortiz started out as an ice cream scoop at Josh & John's when he was a teenager. Now he's a high school teacher and directs training for Josh & John workers. He says the employment landscape for adolescent workers has changed since the pandemic began and that's largely because the workers themselves have changed.
"Before, I think high school kids just wanted a job just to get a job," Ortiz said. "I think now…they want something that's going to allow them to grow in a way that gives them opportunities to do something, they want to know that they're part of something rather than just doing something. for their own purpose."
For Ramen Chops, a Chipotle-style ramen restaurant in Monument that employs a workforce made up almost entirely of teenagers, building community is their mission.
Sarah Hoard, co-owner of the restaurant with her husband Mike, opened the shop so their children would have a place to work.
"So they can learn the work ethic, how to serve and how to listen at a very young age," Hoard said.
Colorado Springs airport passenger numbers soar in April
When Ramen Chops opened in April 2019, several of the employees were in their 20s and 50s, but over time their applicants were mostly teenagers, as younger workers referred their friends to the restaurant, Hoard said.
"What we've learned with teenagers, if you hire them, is that they're hungry to learn," Hoard said. "We love the energy they bring to the restaurant and we love that they are never set in their ways."
Jordan Garcia, 19, started working at Ramen Chops when it opened and left the store to start college, but COVID-19 disrupted his college plans, so he went to culinary school instead . Garcia returned to Ramen Chops as manager nearly six months ago despite options to work elsewhere.
"I like the people who work here, I like the atmosphere, I grew up in Monument and Palmer Lake so it's a place I know well," Garcia said. "It's flexible, I can make great food for people and put smiles on people's faces…you can see that human connection happening."
Most of Garcia's friends have gone the college route, but he wants to stay in the service industry.
"I love to cook, always have, always will," Garcia said. "Right now Mike is teaching me a lot inside the restaurant whether it's in the kitchen or on the management side and I plan to stick with it with all my heart."
Fast-growing church in Colorado Springs buys lower level of former Macy's building