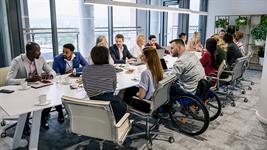 Flexible working could help 1.3 million more people find jobs, analysis finds
Increased flexibility could open up new work opportunities for millions of people, including carers and people with disabilities, a study has found.
The research, conducted by the Center for Economics and Business Research (CEBR) for LinkedIn, estimated that there were 1.3 million fewer people from these groups at work than expected relative to the employment rate of the population general.
This included around 600,000 people with disabilities, 284,000 people living in households with dependent children, 306,000 people with parental responsibilities and around 104,000 people living in rural areas.
---
Three-quarters of workers favor compressed workweek, study finds
Lone parents are twice as likely to be unemployed as parents in a couple, study finds
Progressive HR policies for forward-thinking employers
---
The research, which analyzed the UK's demographics, said that by providing more flexible work opportunities, closing this 'inclusion gap' could add £40bn to the economy.
Nina Skero, CEO of CEBR, said the analysis highlighted "the huge potential of hybrid employment arrangements for inclusivity".
"The hybrid office model will by no means remove all of the structural barriers faced by the highlighted demographics. Nonetheless, it gives optimism for a more inclusive workforce," she said, adding that it was incumbent on companies to make inclusivity a "key part of their agenda."
---
Get more HR and employment law news straight to your inbox every day – sign up for People Management's PM Daily newsletter
---
Commenting on the analysis, Steve Ingham, CEO of PageGroup, said people with disabilities were "more than capable of doing many of the same jobs as able-bodied workers", but that inflexible work policies were often a "barrier to 'access to roles'.
"The widespread shift to working from home has helped overcome barriers to access in many cases, but companies now need to challenge their recruiters and leaders to explore options for truly flexible working," a- he declared.
This was echoed by James Taylor, head of strategy, impact and social change at Scope, who said flexible working was something many people with disabilities have been asking for for years.
"Inclusive policies such as flexible and remote working are hugely beneficial for many employees with disabilities, allowing people to work in the most efficient way for them and contributing their talent, skills and knowledge," said he declared.
The research was released alongside a separate YouGov poll, also conducted for LinkedIn, which showed the pandemic had led the majority of companies to rethink their flexible and remote work offering.
Of 250 senior executives surveyed, 86% said they are now reassessing flexible working.
Janine Chamberlin, UK country manager at LinkedIn, said the pandemic has prompted businesses of all types and sizes to reassess the way they work.
"As companies continue to adapt to this new world of work, they have a huge opportunity to rethink workplace policies with inclusivity at the core," she said.