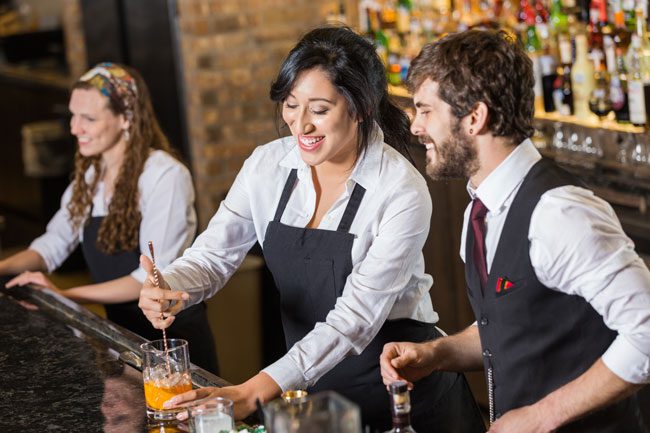 Education is the key to boosting hospitality recruitment
As students across the UK receive their GCSE results today, trade body UK Hospitality seeks to remind the next generation of workers that training is available for those seeking a career in hospitality.
As the sector continues to face a global staff shortage, CEO Kate Nicholls highlighted the resources available to young people when looking to join the hospitality industry.
"The hospitality industry offers a wide variety of options for people at all levels, and there are a number of programs that offer flexible learning and training for anyone looking for a fun and rewarding career," Nicholls said.
"These include new work placements in hospitality, with training in math, English and digital skills; apprenticeships at all levels that cover the many and varied trades that our industry has to offer, and jobs with structured training. Next year, we are delighted that students can also opt for the new T level in catering.
"The sector is experiencing record vacancies and is working hard to attract the right people of all ages and to showcase the many, varied and rewarding careers we offer. Salaries are rising in the industry and with the right attitude progress can be rapid – there are plenty of examples to inspire hospitality students who have gone from bar to board in a very short time.
Viable career options
One of the stumbling blocks that the hospitality industry continues to struggle with is its "reputation" for not being a viable career choice. In the UK Hospitality Workforce Strategy: Solving the Crisispublished in May, it was noted that there had been a "sharp drop" in the number of students taking courses leading to careers in hospitality.
"There needs to be a coordinated conversation about how these skills are taught in school and college and how to ensure people have the options available to pursue hospitality qualifications – which accounts for one in 10 jobs in the UK," he said.
"For too long, the hospitality industry has failed to 'sell' itself effectively. It is often said that the biggest deterrent to young people joining the industry is their parents' opinion that the enemies of the hotel industry do not offer a real career. There needs to be a holistic approach to changing misconceptions about working in hospitality," the report continues.
Talk to The spirits business, industry 'icon' Monica Berg, co-owner of famous London bar Tayer + Elementary, said: 'A lot of the time people assume people are in this industry because they don't have no other choice, but that is absolutely not true. For me and a lot of other people I know, we're doing this because we want, you know, it's not the lack of other opportunities. A lot of us have very high degrees, but we're still drawn to this industry because this industry is an amazing industry.
Nate Brown, owner of east London bars Nebula and Soda and Friends, believes schools have a responsibility to educate students about career options in the industry: "I never planned on going in hospitality – I worked in bars and restaurants to pay for college and it was an eye opener – what other industry can you get a background in anything and still go?
"Hospitality has everything from creativity to science, but it's not talked about in schools and I don't understand. It should be a real career, but it's not seen as such.
Brown uses its own methods of "advanced hospitality" in its bars in order to get the most out of its staff and encourage them to progress in their careers, while providing a high standard of hospitality to its guests. "I get so much praise for my team," he tells us. "It's because we do what we can to bring out their personality and give them confidence. Our team is amazing because we allow them to be. We treat them like adults, and I think if advanced hospitality as a concept were the norm, hospitality would be a viable career for anyone, and it should be talked about more.
"I've had a lot of people work for me in the industry over the years, and they've gone on to do great things, running some of the best bars, so my thoughts and theories seep through osmosis in the rest of the industry and I hope it will continue.
Campari Academy
However, those already working in the industry want education and training to be available to people at all stages of their hospitality career, to help retain talent in the industry.
In May, it was announced that Berg had been named Creative Director of the Campari Academy, a one-of-a-kind educational platform that seeks inspiration from outside the beverage industry to educate, connect and inspire. bartenders at all career levels globally.
Berg is passionate about how educational platforms like the Campari Academy are helping to further help the industry move forward in training and recruitment.
"Every brand now has an educational platform and every brand has an educational pitch. Essentially it's the new – it was sustainability and charity, now it's education, and I think that's a good evolution, especially with our industry.
"[In hospitality] we start very, very vulnerable, because there is no formalized application; there's no institution that can teach us what we need to know, but our industry is universal in the sense that you can pretty much do this job anywhere in the world, if you know the basics. That's the beauty of this profession, but at the same time, because it's such a practical profession, there is no unifying body that educates us, that teaches us what tools we need to create the future we want.
"The Campari Academy creates a platform where you can discuss topics that are not necessarily directly related to service or what's inside the glass (although that's only part of it ), but also look at the big picture of our industry."
Campari Academy has created a strong local network of physical hubs in key markets around the world over the past 10 years, including Italy, USA, Spain, Brazil, Austria, Jamaica, China and Australia, with others to follow, including France and the UK. It has also undergone a digital expansion to build on the success of this network and create a platform accessible to all global bartenders.
Berg continued, "Recently there has been less focus on the kind of technical knowledge required in the profession, so now we have the younger generations looking for people to learn from, but due to the growth of our industry, it's is almost like there. There's a generation missing – ones that have worked for brands or for other sectors of the industry that didn't necessarily exist 20 years ago, which was a natural evolution – but now there's a void that we have to fill.
"We need people who can teach up-and-coming bartenders in a hands-on way, and that's what's really cool about Campari Academy."