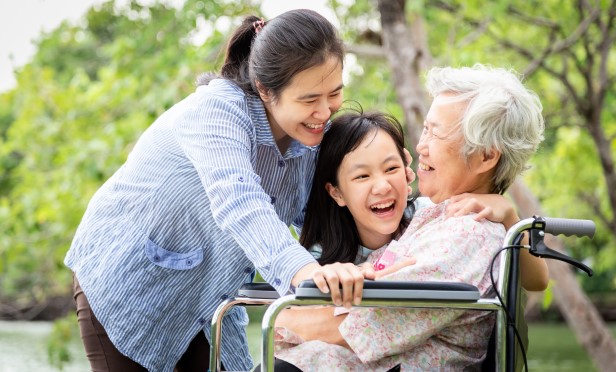 A caregiver-friendly culture is smart business strategy: apply these 7 tips
Nearly one in five Americans provides unpaid care for a sick, elderly or special needs adult. Care ranges from emotional support and help with household chores to health care planning, decision-making skills and medical care for family members.
It's no surprise that caregiving responsibilities can take a physical, emotional and mental toll on many employees. Consider that in many cases:
23% of caregivers say caregiving has made their health worse.
79% say caregiving responsibilities have resulted in financial, social, mental or professional setbacks.
More than 4 in 10 say they are reducing their working hours or switching to part-time work to manage their caregiving duties.
For employers, understanding the challenges faced by their caring employees and providing tailored benefits and support can play an important role in employee health, satisfaction and retention.
Sixty-two percent of caregivers cite the emotional stress of managing work and caregiving responsibilities as their biggest challenge. Today's employers have a range of support options to help them create a carer-friendly culture and stand out in a competitive job market. Here are seven strategies employers can implement to support their caregiver workforce.
Foster inclusiveness.
The cornerstone of a caregiver-friendly culture is acknowledging burden and highlighting it, so employees feel comfortable asking for help. Employees are often reluctant to talk about their caring responsibilities at work because they fear they will appear less engaged in their work or miss out on promotions. Training leaders and managers can help de-stigmatize caregiving and identify when employees need support.
List resources for caregivers.
Create a list of community care and support services that employees can easily access when they need them. Examples of resources include adult care programs, transportation services, respite care options, and caregiver support groups. In addition to a list, consider hosting information sessions with local senior care experts and support providers.
Create caregiver-focused ERGs.
One of the best ways to recognize the pressures of caregiving is to sponsor an Employee Resource Group (ERG) for employees who care for loved ones. These types of employee-led groups make it easy to connect, support, and share information.
Enable flexibility.
Employees rank flextime options at the top of the list of the most helpful benefits employers can offer. Even when remote or hybrid working is not possible, caregivers appreciate the ability to take time off during the day for tasks and care appointments by tapping into a paid time off (PTO) bank or catching up time later.
Provide leave options for caregivers.
Caregivers may need to be away from work for a long time to provide or arrange care. The Family Medical Leave Act (FMLA) provides unpaid, job-protected leave for approved reasons, including caring for a family member. FMLA does not, however, cover workers in companies with less than 50 employees. Adding compassionate care leave – paid or unpaid – can significantly improve an employer's benefits.
Provide care concierge.
Managing the logistical and administrative costs of care is time-consuming and stressful. Offering a concierge benefit gives employees an expert resource that does more than provide information. Care coordinators help people navigate the health care system, explore care delivery options, veterinary specialists, schedule appointments, and manage paperwork.
Highlight benefits that support caregivers.
Lack of knowledge of available benefits is often the biggest barrier for employees who need caregiving support. Create communications that educate caregivers about the support available through health insurance plans – both for them and their loved ones. Highlight relevant benefits, such as care management programs, social workers, mental and behavioral health resources, employee assistance programs (EAPs), and wellness programs.
As the population ages, creating a supportive culture for caregivers will remain in the spotlight. By 2060, there will be 95 million Americans aged 65 and over – and more employees will take on caregiver roles. As a result, caregiver support offered in the workplace will become even more valuable to employees and employers.
With options like nursing managers, social workers and caregiver resources, learn how Point32Health companies Harvard Pilgrim Health Care and Tufts Health Plan can help provide benefits to help employees balance work and care at home. an aging loved one.