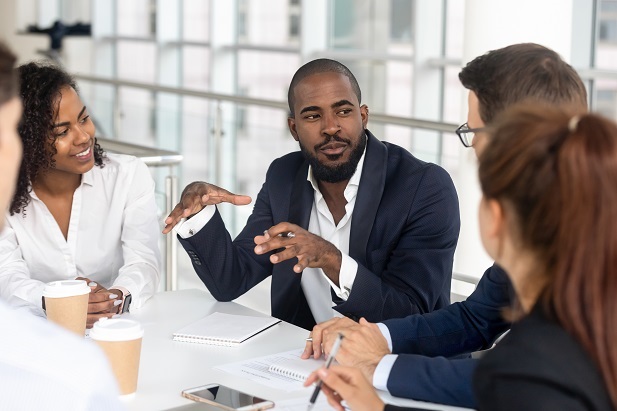 3 ways small businesses can attract and retain top talent in today's competitive job market
Historically, large companies have had a recruiting advantage over small companies due to their ability to offer a full range of employee benefits and experiences. But, in today's highly competitive job market, small businesses are increasingly realizing the importance of competing with the company for employees and adapting to the modern workforce.
According to a recent study for QuickBooks Payroll, nearly half of small business owners say it's getting harder to hire skilled workers. Another 39% say it's hard to keep the workers they already have. However, the study reveals that small businesses may have more options than they realize when it comes to recruiting and retaining talent.
Here are three ways small businesses can improve their value in today's job market to be more competitive in attracting and retaining talent.
Offer benefits to improve employee retention
With the rising cost of living, benefits such as health insurance, 401K, and dental and vision plans remain powerful incentives for workers to choose (and stay with) an employer. Among employees of small businesses who receive at least some basic benefits, only 18% say they plan to leave their current employer. Conversely, more than 1 in 4 (27%) of those who report having no benefits at all are considering quitting their current job.
To better compete for talent, it's important for small businesses to assess what perks your business can afford and how you can deliver them. To make it easier for you, look for providers who can offer a range of benefits in one package. This can help you provide a variety of offers with less administrative work and, potentially, lower costs. It's also important to leverage resources and seek advice when deciding how much your company should contribute to benefits such as health care plans, versus how much employees should contribute. When it comes to benefits, the more you can provide, the better – the investment is worth it.
Embrace flexibility
The past few years have dramatically transformed how and where many of us work. With the rapid growth of digital collaboration and communication tools, more and more people are working from anywhere at any time. Twitter made headlines in 2020 after announcing that its teams would be allowed to work from home forever. Since then, dozens of companies have followed suit with their own remote, hybrid or flexible work policies. But big companies aren't the only ones who can use this trend to their advantage. About 48% of small business employees cite flexible working hours as one of the three most valued aspects of their job. Additionally, 31% cite the ability to work from home as something they would greatly appreciate.
If it's not essential for your employees to be on-site, consider flexible hours or remote work opportunities as additional perks you can offer your employees for free. While the reduced structure of flexible working makes some business owners nervous, the right tools can make this transition easier to manage. For example, some payroll systems offer additional team management features, such as scheduling, remote time entry, and location-based project tracking, so you can plan, record, and accurately verify the working hours of your team members.
Create a work culture that aligns with employees' personal goals
One of the biggest advantages of small businesses is their ability to connect more closely with their employees and create a work culture that authentically aligns with personal values. This is something that big companies invest a lot of time and money to achieve! Small businesses should lean on this superpower and remember that pay and benefits aren't the only things that keep workers in their jobs. More than 2 in 5 small business employees (42%) enjoy work that gives them meaning and a sense of fulfillment, and 41% of those aged 18-34 say finding work related to their passion is the one of their priorities. values ​​in choosing an employer.
Related: New Resource Explores Unique Small Business Benefits, Legal and Insurance Issues
It's important to bring the same intent and energy to creating meaningful employee experiences as you would to customer experiences. To achieve this, take the time to have an open dialogue with your employees about what they like or dislike. Find out what really drives them and consider adjusting their job responsibilities to better align with their passions, skills, and goals. Thinking creatively about company culture and organization can go a long way toward creating a highly desirable workplace.
The bright side
While today's hiring landscape is challenging, small businesses have several levers to attract talent. By investing in essential benefits, embracing flexible working, and creating a strong company culture, these companies can recruit passionate employees who are willing to stay and grow with them.
Sandy Edwards, Director of Product Management, Intuit QuickBooks Payroll